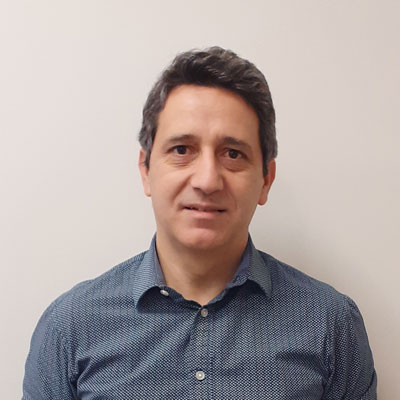 He received his BEng degree in Computer Engineering and Informatics from Polytechnic School of University of Patras in 1993. In 1994 he received his MSc degree from University of London, King's College London, in Information Processing and Neural Networks. He is a PhD candidate at the University of Peloponnese, on the application of artificial intelligence in the public sector.
From 1995 to 1997 he was a postgraduate research student, funded by the Defence Research Agency, at King's College, University of London, working on algorithms for optimum signal combining for multiple antenna systems.
From 3/8/1998 to 12/11/1999 he worked for British Airways, Information Management Department as a Systems Programmer. His main duties were software development and maintenance for real-time mainframe systems and he worked in projects like the maintenance of a global wide area network, the first electronic ticketing connections between Europe and the US and the development of an enterprise systems integration platform.
From 15/11/1999 to 26/11/2002 he worked for Nortel Networks UK, at the Maidenhead Labs UK, as a Research and Development Software Engineer. His main duties were development, research and optimization of products like the Succession Media Gateway 9000 (VoIP gateway) and a cellular Fixed Wireless Access system, where he developed software for the protocol layers of the network and mathematical simulations. 
From 3/3/2003 to 3/5/2004 he served as a Sergeant Analyst Programmer in the Hellenic Air Force (military service).  He mainly worked in system administration, software and database development and developed an information system for real-time monitoring of the state of the aircrafts of the base.
From 3/5/2004 to 30/6/2004 he worked for Intrasoft International, Research and Development Department, as a project manager of EU funded projects.
From 11/10/2004 to 4/9/2005 he worked as a Laboratory Associate – Application Lecturer in the Technological Educational Institute (T.E.I.) of Kalamata as well as an IT teacher in other institutions.
He started working as a permanent public servant (IT Secondary School Teacher) in October 2005 after succeeding in the written exams of the Supreme Council for Personnel Selection (ASEP). He worked in the offices of the Secondary Education Directorate of Messinia until the 30/11/2008.
From 1/12/2008 to 30/6/2010 he was seconded to the National Centre for Public Administration and Local Government (after succeeding in the written exams of the National Centre) and graduated from the National School of Local Government. 
From 1/7/2010 until today he serves in the Municipality of Kalamata in the Department of E-Government and he is the Leader of the Department since 9/6/2011. He is responsible for user support and training, maintenance, development and management of all ICT infrastructure of the municipality as well as the relevant procurement. He has contributed το the strategic planning of the municipality, the design and development of e-government services and the design and implementation of smart city projects. During his time with the municipality he has drafted many requirements' documents and has managed many ICT projects.
He has attended many seminars as well as national and international meetings, workshops and conferences.
He is the co-author of 3 publications in international scientific journals (included in the Science Citation Index).
He has worked extensively in education: in the Technological Educational Institute of Peloponnese (as a Laboratory Associate – Application Lecturer from 2004 to 2016), in the National Centre for Public Administration and Local Government (as an IT Instructor), in Public Vocational Training Institutes and in Vocational Training Centers. He is a certified adult education instructor in IT.
He is a member of the Technical Chamber of Greece, the Association for the Computing Machinery (ACM) and the Institute of Electrical and Electronics Engineers (ΙΕΕΕ).